Julie Heffernan describes the process for her artistic inspiration:
"Before I'm actually sleeping, as I relax and get out of the conscious mind, pictures will flood into my head, kind of like a movie," Heffernan explains.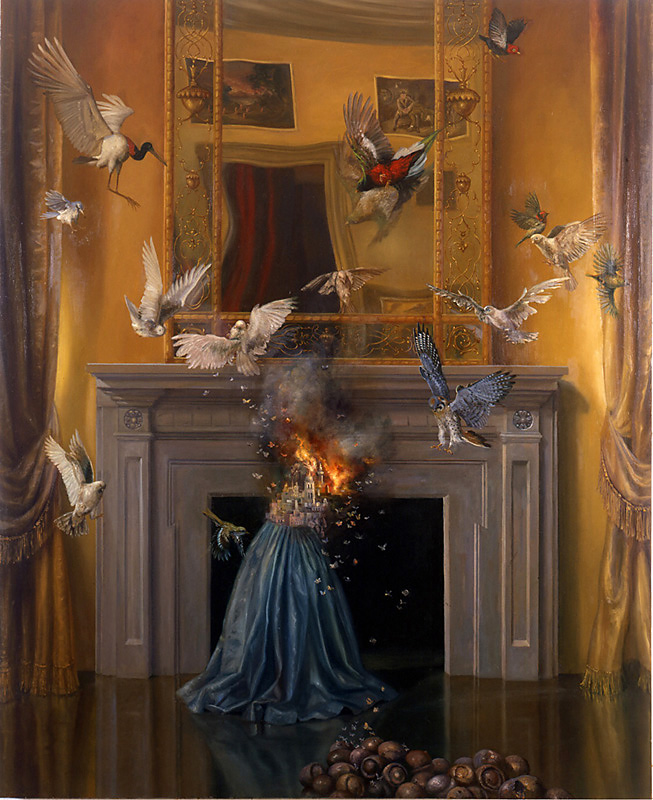 "It's not like daydreaming or remembering. They're spontaneous pictures that I just sit back and watch. And then I'll fall asleep. When I wake up, it's at that point where the images start to stream in, and out of those I'll usually 'see' something."
The first time I saw Julie Heffernan's work was in 2004. My wife and I spontaneously decided to run through a local museum despite the approach of the closing hour. What followed I'll never forget. I had not yet heard of Julie Heffernan.  When I entered the exhibit room I became entrance by "Everything That Rises".  The image instantly connected with me.  Varieties of birds emanate from a hovering fire over a chandelier amidst falling berries.  All of this set within a greek revivalist surrounding.  It was love at first sight for me.  I wont interpret a meaning, I will leave that to the individual observer.  Her work combines realism with fantasy, allegory, portraiture, and still life. Yet all these elements in are in a natural balance that is both innately pleasing and also mysterious.
All images can be clicked to enlarge.  Enjoy!
More Julie Heffernan: